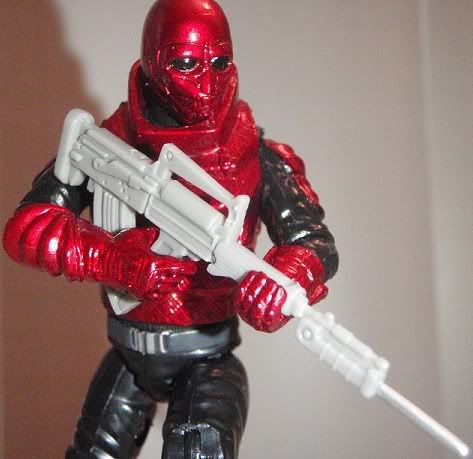 Well, this is it: I've finally decided to start reposting my old "Alexx Shorts" G.I. Joe reviews. They're the reviews that lead to what eventually became this blog! I'll be posting them in straight copy-and-paste format, separating them with bold dotted lines so you know where they begin and end, and then I'll post some final thoughts on what I think of the figure currently.
For those unfamiliar: I used to take random pictures here and there, but by the time the Rise of Cobra toys came out, I was getting annoying with how much people had been bashing the figures which were clearly better than the previous 25th Anniversary offerings. I set out to show people how awesome they were, and things went from there, forming into "Alexx Shorts", named so because I thought I was going to keep to a short format with a few pictures. I did not do that.
I'm a sucker for red!
-------------------------------------------------------------

Alright, I love this guy. I know, I know. How many times have we seen the crimson thing? It's like a fad in Cobra; as if the color doesn't even matter. They just wear it because they're allowed to and it looks cool. You know what, though?
I love it
. I've always been a big fan of red, regardless of how useless it is for realistic military stuff. Yeah, you stand right out, but action figures (for me) are for lookin'
cool!
And you don't get a much cooler red that this!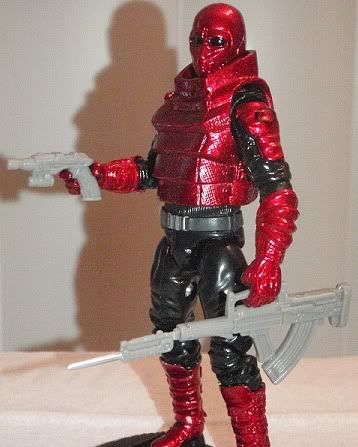 Shiny!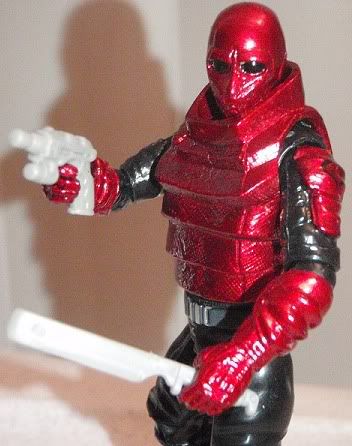 Very shiny! I probably wouldn't have said "shiny red is a
good
idea!" until I saw this figure. It helps that it's a nice dark red, though. Rarely do figures actually sport the kinda red that I like (Crimson Guards got it down
great
, though). I would normally have someone else in charge and leave the red guys as special forces, but this guy just looks like he should be giving orders! Not only that, but this guy is armed to the TEETH!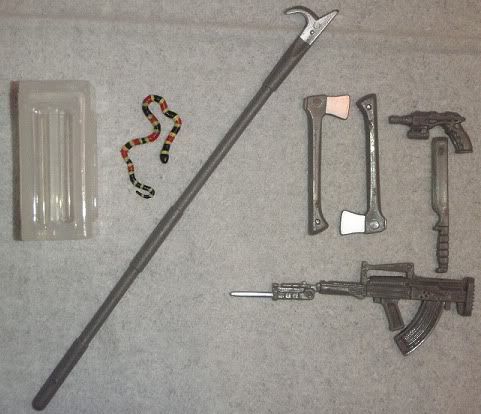 Look at that! A blade, some hatchets, cool looking rifle, standard pistol.....and some snake catching gear. I gotta say, as much as I do love the stuff, I'm a bit confused...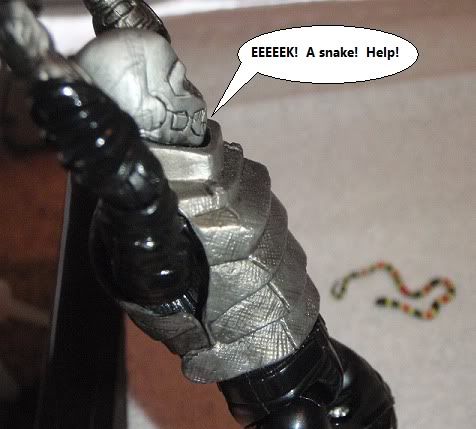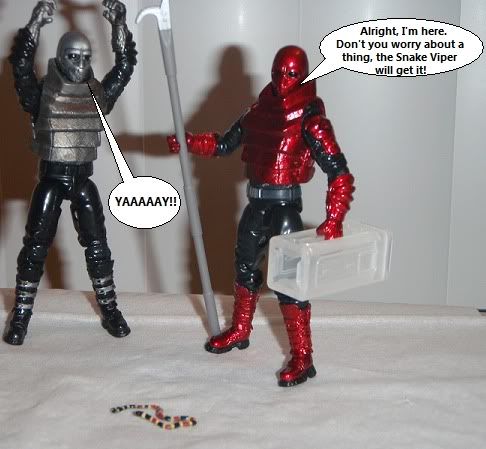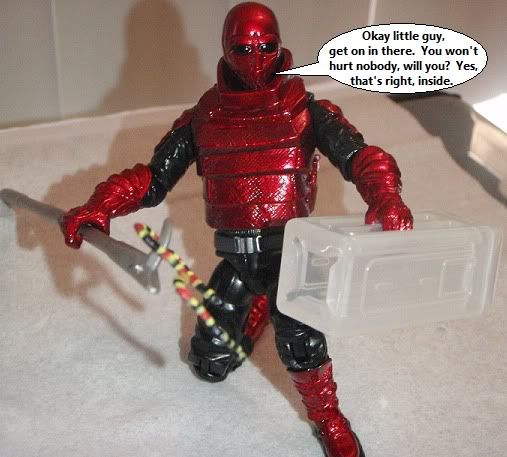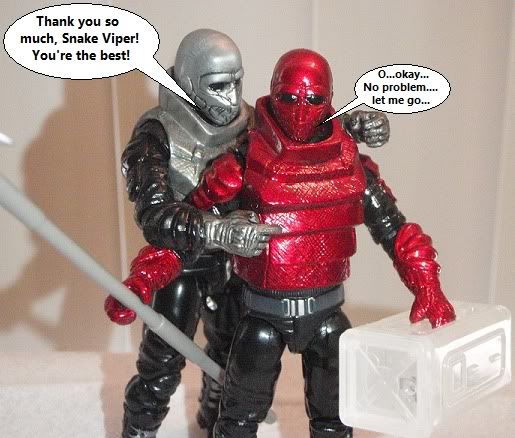 Well okay, so it doesn't have to play out that way, but that's what popped into my head when I saw the gear. I mean, I'm sure they are catching the snake for the venom; to use for nefarious purposes and all that. Regardless, my mind jumps to whatever would be funniest. The snake stick is still bladed and great for a weapon, and the little snake case can be carried and filled with any little Cobra-like device you want, so it is certainly welcome gear!
How about the stuff we know how to use, though?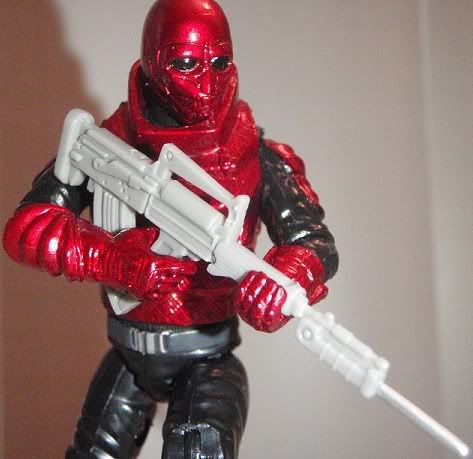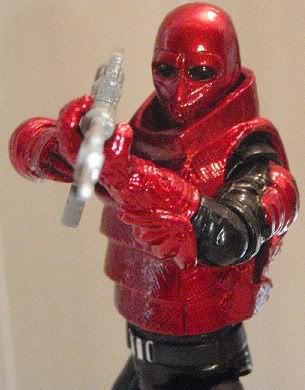 I love this rifle! I just wish he could hold it a bit better (but it's good enough for me!). I like having just one of these guys, so I might get another one just to pass around the gear and this rifle! Otherwise, he's one of the few who comes with some great stuff to fend off those pesky ninjas: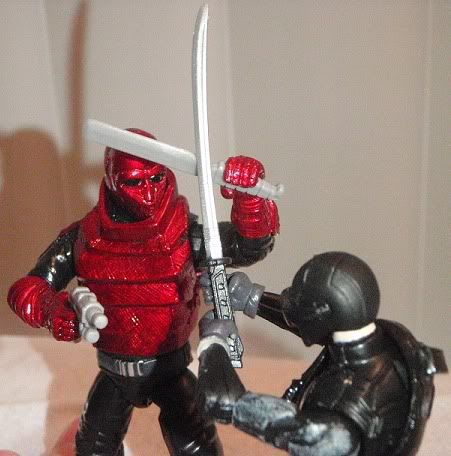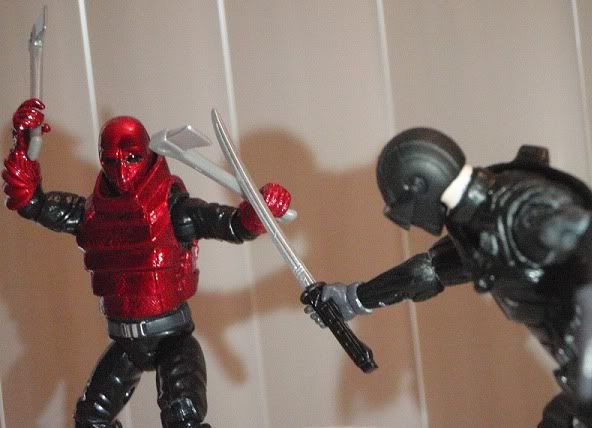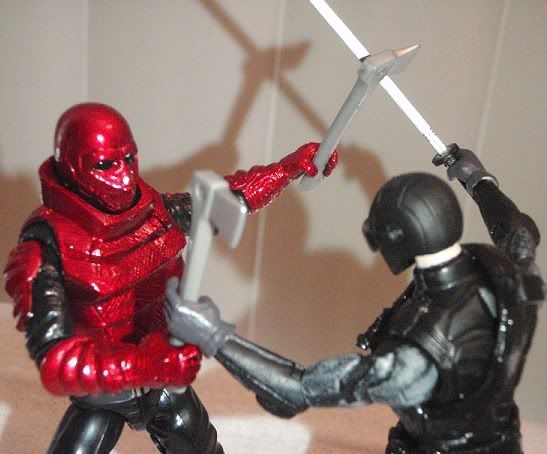 I guess these guys are useless, unless you already like the Neo-Viper look. So, if you're a fan and turned off by the color: just try one out! If you don't like it, it's got great gear! Seriously though, in terms of the crimson onslaught, this guy is at least right under the standard Crimson Guard (in looks, though, not in rank).
-------------------------------------------------------------
I don't...fully understand all of Past Alexx's sentiments at the end there, but I think I was speaking as though people wouldn't like this one. Not sure why I thought that. Did ya'll not like this one? 'Cause it's AWESOME. Still is. I do love that Neo-Viper mold, though. I can't deny that. Putting it in a nice, deep, shiny red only made my heart grow fonder.

I still don't understand what the snake gear was for - though I think they were harvesting snake venom in some plot point of the movie? Maybe? I can't remember. It's a cool batch of gear, though, surprisingly, I haven't found any use for it since. (I oughta dig it out and have it on-hand! Might have been a tiny I needed a tiny clear box and totally forgot that existed).

I've always been a fan of the red-guy-is-the-special kinda deal, so this guy fits the bill perfectly. I would hunt 'em down, if you're still into Neo-Vipers. Definitely one of the stand-outs from Rise of Cobra.