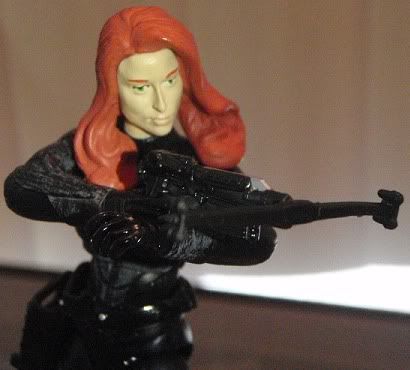 Well, this is it: I've finally decided to start reposting my old "Alexx Shorts" G.I. Joe reviews. They're the reviews that lead to what eventually became this blog! I'll be posting them in straight copy-and-paste format, separating them with bold dotted lines so you know where they begin and end, and then I'll post some final thoughts on what I think of the figure currently.
For those unfamiliar: I used to take random pictures here and there, but by the time the Rise of Cobra toys came out, I was getting annoying with how much people had been bashing the figures which were clearly better than the previous 25th Anniversary offerings. I set out to show people how awesome they were, and things went from there, forming into "Alexx Shorts", named so because I thought I was going to keep to a short format with a few pictures. I did not do that.
Reactive armor! The king of the customs, and the figures that, I think, people bought the most:
-------------------------------------------------------------

Now we're getting redundant! This one has been around pretty well already, and I'm sure most people agree that this is a dang cool figure, but if you haven't already learned this by now:
I like taking pictures.
So, regarding the fact that
Justin already did this one
, and showed 'er off better than I could, here's my contribution!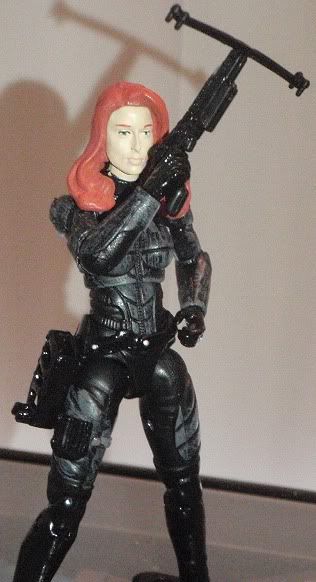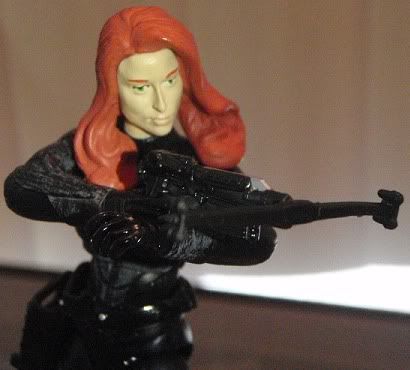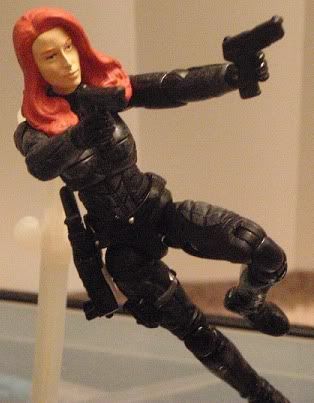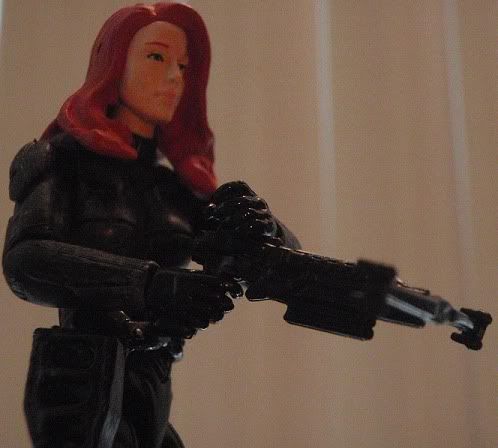 It's obvious that this one has a WAY better headsculpt than the covert ops one! I don't know what they did, 'cause the faces are pretty similar. Perhaps I've always prefered the hair-down look? Perhaps I'm just a superficial jerk! Anyway, if you don't like the headsculpt...well, you don't have many other choices unless you are an avid customizer. None of the other heads look good on this body, 'cause the neck is longer than the covert ops version!
The only problem I had with her was the crossbow holster. When you put the crossbow in, the handle sticks way up to her ribs!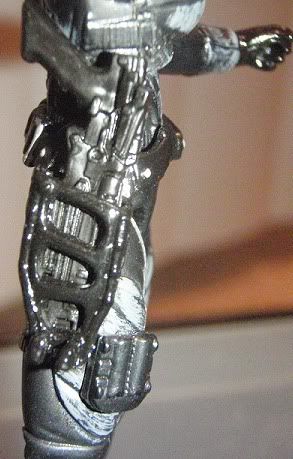 So I cut the bottom out to allow the crossbow to sit better: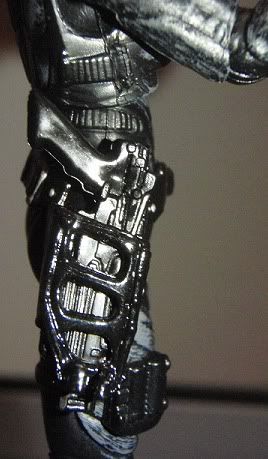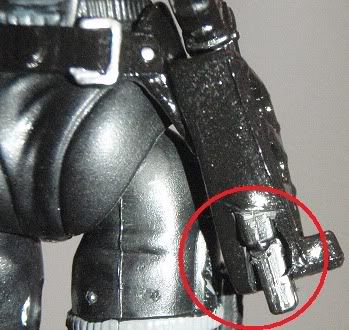 That was about it, though! No other problems here; the articulation is great! I had a ball setting up some asskickings: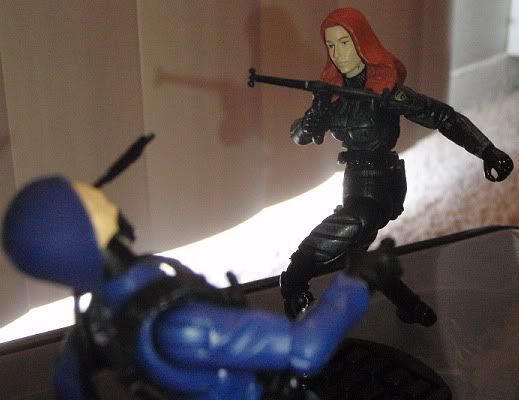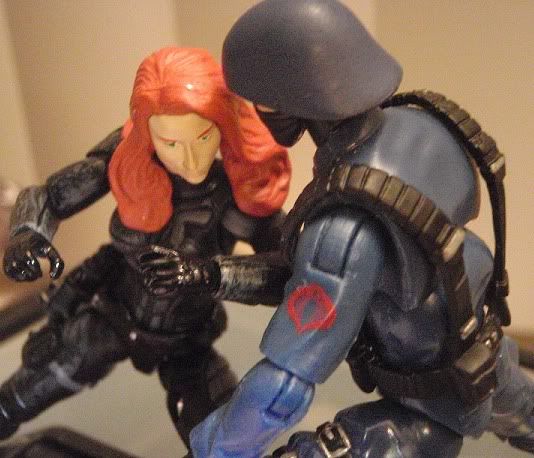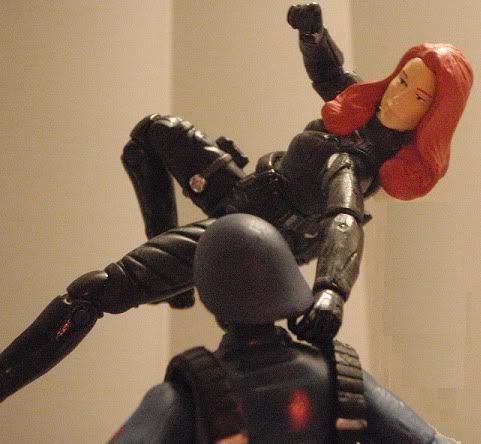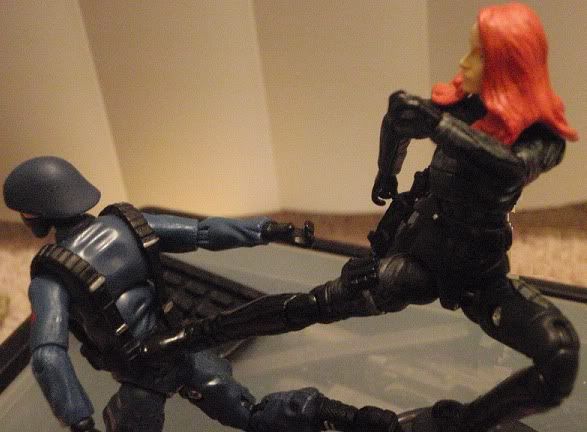 I don't need to say much else here, I think! I did like the previous Scarletts...but...well, I just didn't like the hunched over look she always had! It was hard to get her to stand. This one and the covert ops one gives me two different looks, AND they both rock in terms of articulation and posing! It goes without says that, although this is far from the usual Scarlett, I'll be using these two as my main until they (hopefully) release the Resolute Scarlett.
-------------------------------------------------------------

Man, I started a lot of these old ones apologizing for reviewing things that other people had already reviewed! I was kinda feeling redundant back then, but I guess I found my stride, later.
Anyway: Good figure! Pretty much the same as the male reactive armor. I bought a second to make into another female, and will probably reuse that body again, if I ever get back into Joes. There was the minor modification of the holster, but I still agree with Past Alexx.
One thing that surprises me, though, is the lack of reuse for this one. We saw the reactive armor get repainted for a bunch of dudes, but we didn't get to see the female buck with any color! This is still a good mold, and I hope they come back to it again for someone.