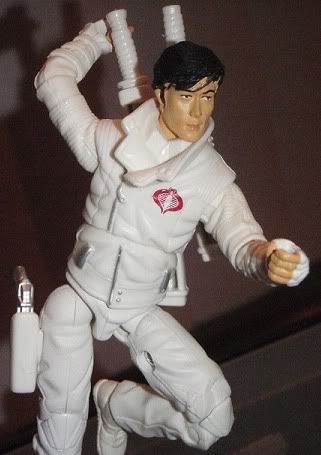 Well, this is it: I've finally decided to start reposting my old "Alexx Shorts" G.I. Joe reviews. They're the reviews that lead to what eventually became this blog! I'll be posting them in straight copy-and-paste format, separating them with bold dotted lines so you know where they begin and end, and then I'll post some final thoughts on what I think of the figure currently.

For those unfamiliar: I used to take random pictures here and there, but by the time the Rise of Cobra toys came out, I was getting annoying with how much people had been bashing the figures which were clearly better than the previous 25th Anniversary offerings. I set out to show people how awesome they were, and things went from there, forming into "Alexx Shorts", named so because I thought I was going to keep to a short format with a few pictures. I did not do that.
Spoilers for the final comments: I STILL LOVE THIS FIGURE:
-------------------------------------------------------------
Alright, I've been trying to limit these to figures that I figured were on the low end of people's "gotta have" lists, or completely off that list. I know I don't need to help this figure get some love! Nonetheless, as it is plainly obvious by now, I love taking pictures, and this version in particular came with one accessory that was more hilarious than the giant missile launchers. I will start with that accessory: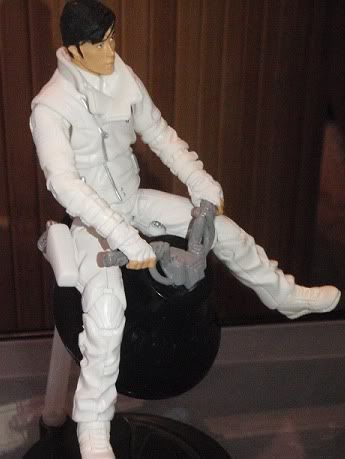 Yes, I know how it is supposed to be used! It's got freakin' handlebars, though!! How could I possibly use it the right way?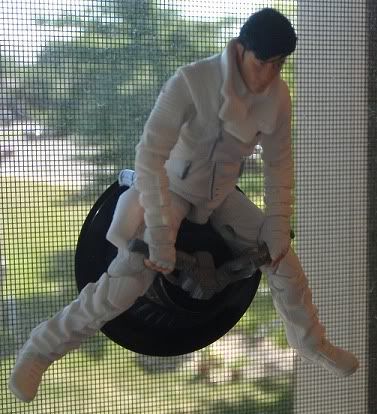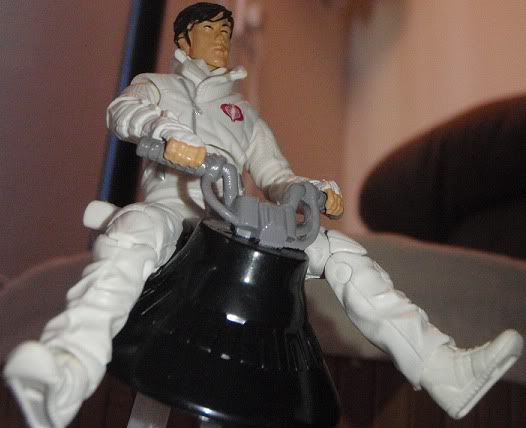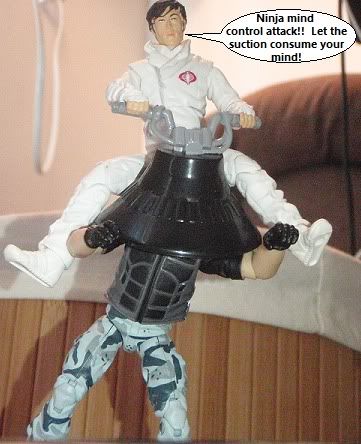 There are two big things I look for in a figure: Awesomeness factor, and comical use. This guy brings 'em both home! I might as well get on with the other pics, though, in the "awesomeness factor" area. First, I tried the head swap that I was very excited about...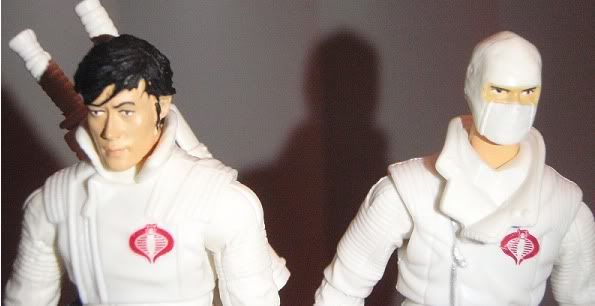 ....and then was subsequently saddened. The neck is just too long, so it would take some modification to get either to look right. *sigh* No point crying over spilt milk, however, since the figure is fine as-is!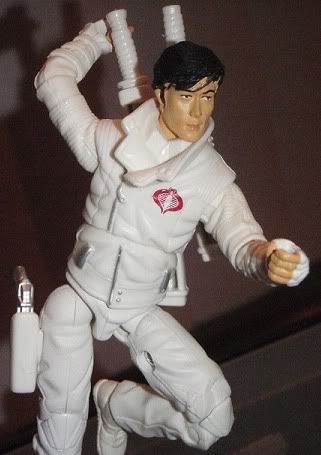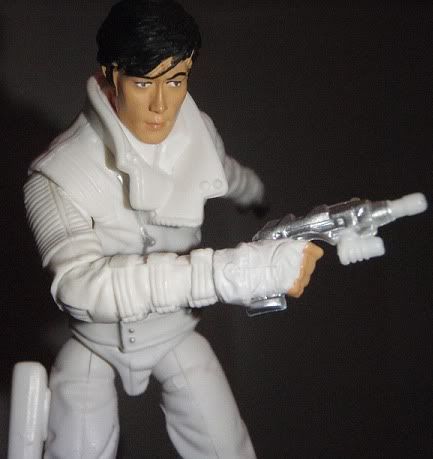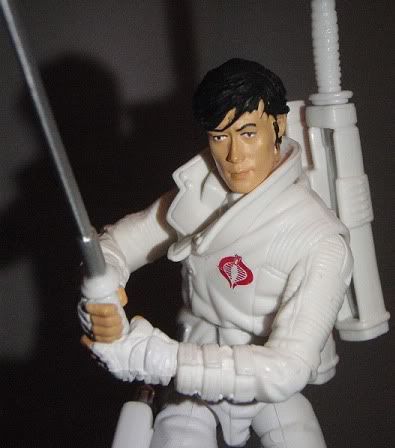 You'll notice that, for some reason, they painted the sword's handles differently. I mean, I know one reason: the sword handles on the first figure were painted with flat paint that chips easily. So, these new ones are the gloss that we are used to, however, they neglected to color the upper part of the hilt and add the cool ninja clan symbols: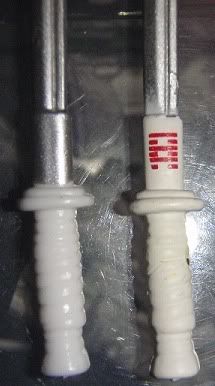 Thought that was odd. Also, above, you'll notice that his gun is now silver and white instead of black. A nice addition! Makes his side arm match the rest of him.
Alright, let's wrap up with some simple action shots.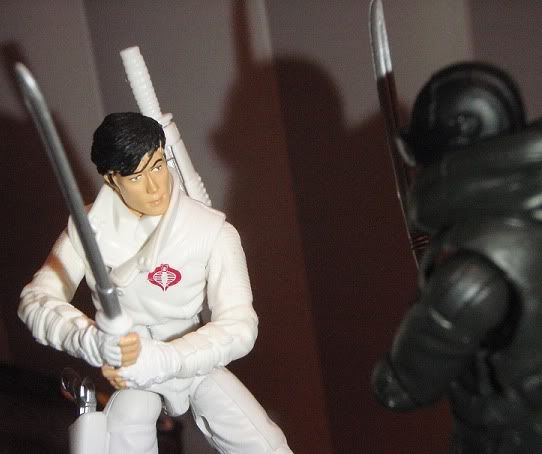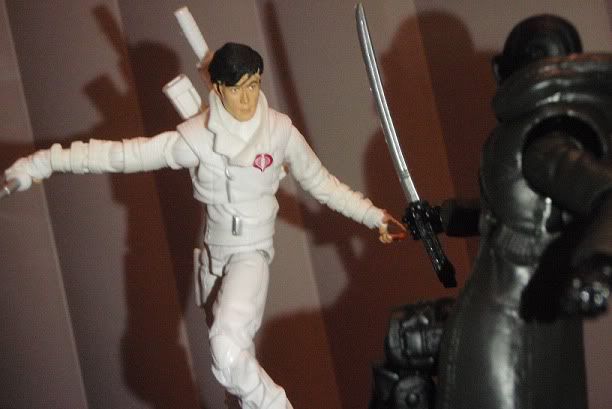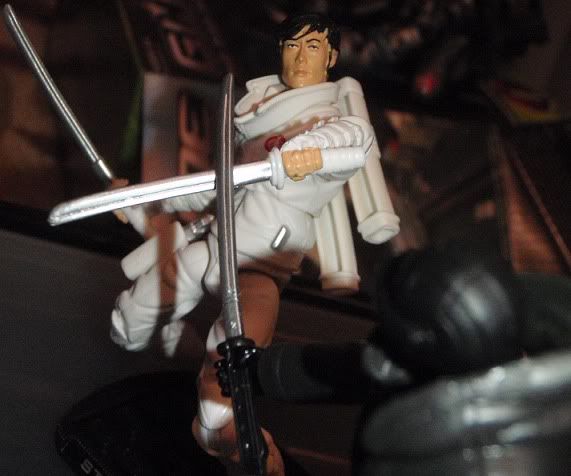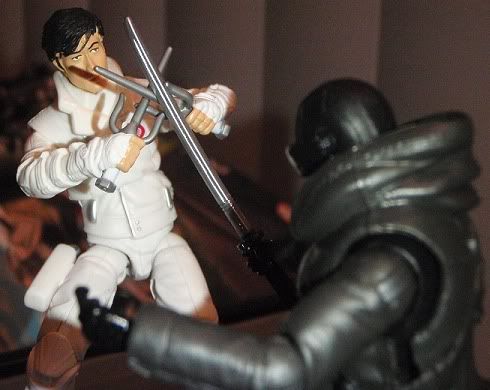 Like I said, I don't need to sell this one. He's got the standard articulation if you weren't happy with the first one, and he's got the best unmasked head for Storm Shadow that I've ever seen, so go get 'em!
-------------------------------------------------------------

So the opening to this review reveals some thoughts I had back then: Apparently I was trying to only review figures that I thought people would overlook. Well, that certainly changed, later! Man, I completely forgot I had some sorta mission statement, back then.
Anyway: I LOVE THIS FIGURE. If that wasn't obvious at the beginning. He's still awesome, the headsculpt is still the best, and the simple functionality of the sidearm and swords all fitting on him is one of the best feelings for any action figure (though he does come with some sais he can't really put anywhere, but the accessories that count are the ones that fit).
Then...THEN...there's the Suction Cup Cycle. I believe it was supposed to be some sort of wall-climbing gear, but it seriously had motorcycle handlebars on it. No question. I mean look at it! It couldn't be anything else. So either he uses it as intended and...I dunno, flops up a building while hanging off of it, or he rides it like a cowboy and everyone stays the hell out of the way of Storm Shadow's Hover Buddy.
Seriously man, check this one out, if you get the chance. He's still awesome, and one of my favorites Joes, in general. I can only hope they make proper use of this mold, because the open-collared jacket is just AWESOME, and I wana see it used elsewhere.