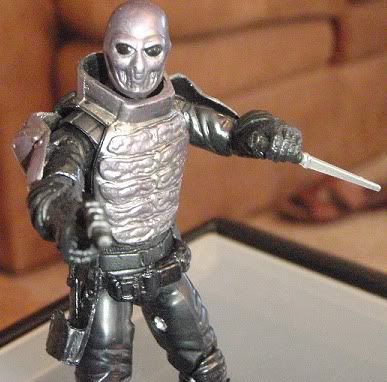 Well, this is it: I've finally decided to start reposting my old "Alexx Shorts" G.I. Joe reviews. They're the reviews that lead to what eventually became this blog! I'll be posting them in straight copy-and-paste format, separating them with bold dotted lines so you know where they begin and end, and then I'll post some final thoughts on what I think of the figure currently.

For those unfamiliar: I used to take random pictures here and there, but by the time the Rise of Cobra toys came out, I was getting annoying with how much people had been bashing the figures which were clearly better than the previous 25th Anniversary offerings. I set out to show people how awesome they were, and things went from there, forming into "Alexx Shorts", named so because I thought I was going to keep to a short format with a few pictures. I did not do that.
So what's the difference between a Neo-Viper and a Viper Commando? Ah...well, very little. Some design differences. It's strange, but fun!
-------------------------------------------------------------
Man, this guy is ugly! I know many people associate this look with the Neo-Viper and dislike them equally, but something about this guy rubbed me the wrong way, while the Neo-Viper just looked really cool in comparison. Maybe it's the semi-organic looking armor (I'm always more of a fan of sharp angles and robotic stuff). I also think the shoulder pads are kind of strange (though they don't get in the way of the movement). Nonetheless, as these things go, he did grow on me with time. This is a prime example of what this line does for bringing back the spirit of G.I. Joe: The grapple backpack just gives him life! That was what made many of the original ARAH figures pop, to me. I would have never been interested in tundra Stalker if he didn't come with that whole kayak, and Hit 'n Run was neat looking, but all that gear is what made the man! The same goes here. The Viper Commando is kinda boring and ugly, but when you get to play with him....
...you start stabbing throats!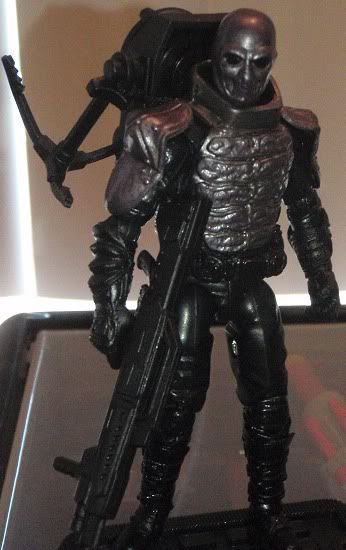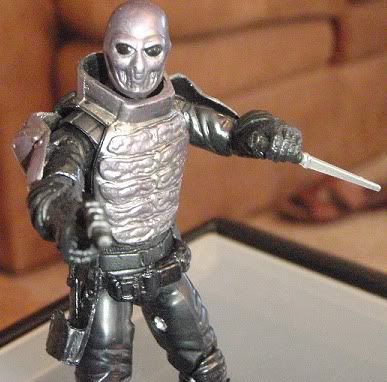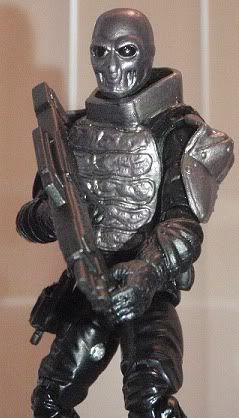 Once again, the stock on the rifle is just too long! Some little nitpicky thing always finds a way in. I love the look of the gun, but the only way to get it to look good is to do this: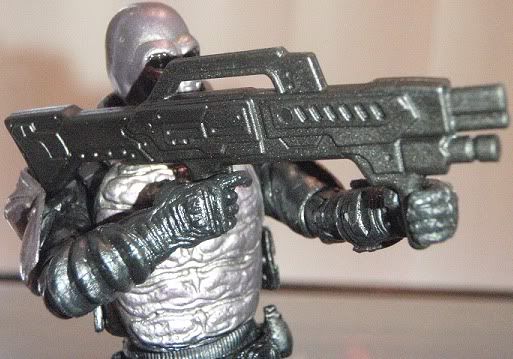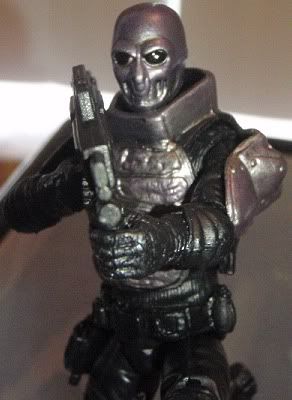 I'm not entirely disappointed with that, however, as the look is kinda cool and the gun is big enough to be a type of launcher. Nonetheless, I may try to cut the stock down and see what I get.
Oh, this dude comes with a removable belt, too!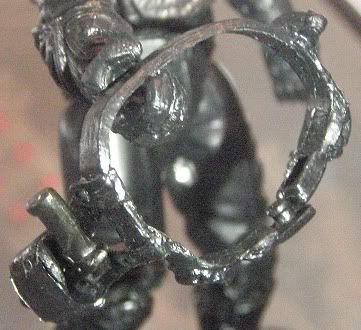 It's cool and simple, so you could use it for many figures since it's just a belt with a holster.
Finally, I'm loving the grapple!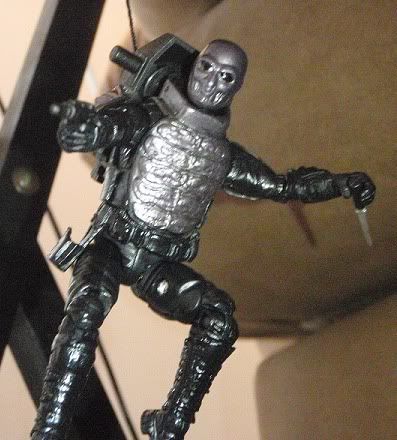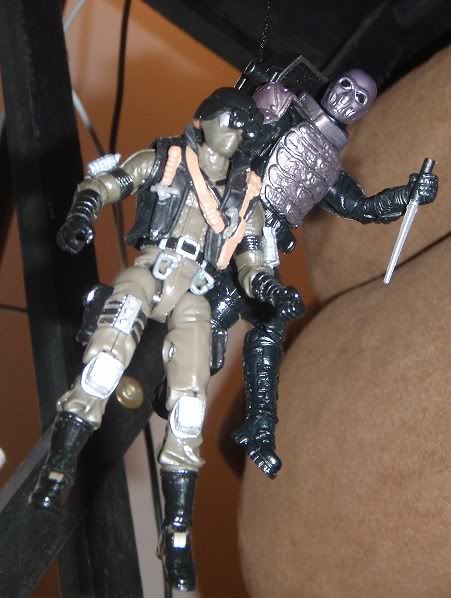 *Ahem* that last pic is supposed to be him grabbing a dude and zipping upward, but I couldn't get the action quite right and the dude isn't struggling enough....on top of that, they just kept swinging! Hang still! I need a good shot!

Anyway, the final verdict is that I really think you guys should try a Neo-Viper, but this one may be a pass. It's sad all the same, since the grapple pack really gives this guy some life, but the organic armor and strange smooth mask kinda kills some of the look for me. Part of me wishes that he meshed better with the Neo-Viper, however, he still sorta does. Ah well! I'm not gona be as gung-ho about this one as the others, but I still think you should give him a shot, if for no other reason than the gear. Try him with the stuff he comes with, and if it's still not enough, at least the pack and body are useful!
-------------------------------------------------------------

Wow, I actually don't agree with Past Alexx! I'm not sure what I found so ugly about it, back then. I mean yeah, it IS very alien and even more organic than the Neo-Viper, but that just makes it more unique! Perhaps I'm just tired of standard military looks, nowadays. This guy (and his recolors) stand out to me more, now. His rifle is still awkward, but I do stand by my old thoughts on the grapple pack. I miss those old simple features! Adding something with a real rope always caught my attention, and still sorta does.
One thing that I didn't touch on, back then, is the name: Why is this a Viper Commando, but the others are Neo-Vipers? There aren't any standard Vipers in this series, so is this supposed to be a Neo-Viper Commando? Hell, on that topic: Why Neo-Vipers at all? Why not just call them Vipers? This was the "Rise of Cobra", so, for this universe, we're seeing these Vipers for the first time.
Bah! Nitpicking. As for the figure, honestly, I'd recommend it now. You don't get weird designs like this very often, and I think you'll like it if you give it a chance, outside or inside of G.I. Joe. It's super alien-looking and kinda creepy! Plus, he moves just as well as the Neo-Viper, if not better (due to the armor being thinner in the chest). If they had repainted these as new Toxo-Vipers I don't think anyone would have batted an eye, and I think you could come to love these, with that in mind, much like many of the RoC figures: Just use them how you like!