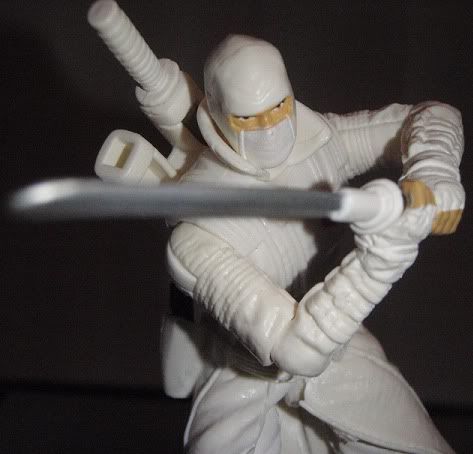 Well, this is it: I've finally decided to start reposting my old "Alexx Shorts" G.I. Joe reviews. They're the reviews that lead to what eventually became this blog! I'll be posting them in straight copy-and-paste format, separating them with bold dotted lines so you know where they begin and end, and then I'll post some final thoughts on what I think of the figure currently.
For those unfamiliar: I used to take random pictures here and there, but by the time the Rise of Cobra toys came out, I was getting annoying with how much people had been bashing the figures which were
clearly
better than the previous 25th Anniversary offerings. I set out to show people how awesome they were, and things went from there, forming into "Alexx Shorts", named so because I thought I was going to keep to a short format with a few pictures. I did not do that.
We start with Rise of Cobra's Storm Shadow, which was a departure from the normal standard-white-ninja look.
-------------------------------------------------------------

Hey folks! I wanted to get my own reviews out there, but, since they've all been done awhile ago (on various sites), I figured I'd do little short reviews with mostly pics to show off why you should be buying these movie figures! First off:
Storm Shadow! Totally unexpected delight. All the pics and reviews seem to show him off as middle of the road. He looks cool, but the swords look chunky and the figure can't move much bellow the waist. Well, one small cut to the front of the skirt later, and I am a BIG fan of this version! Granted, I'm still looking forward to the next unmasked one, but this one really jumped at me and showed his true colors.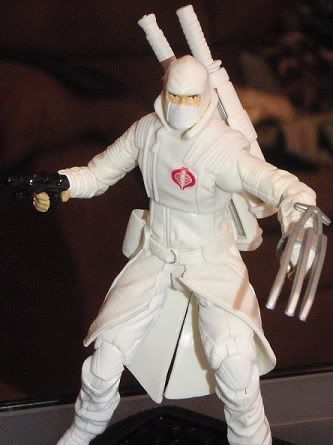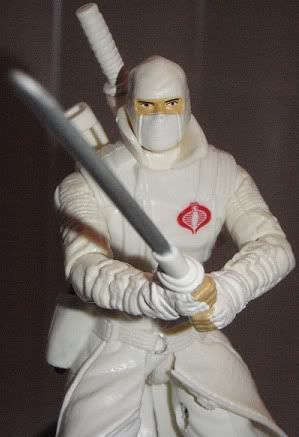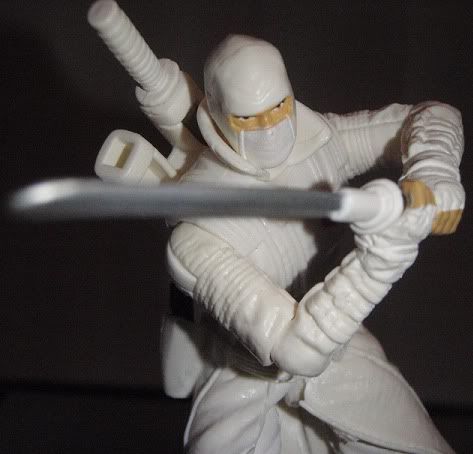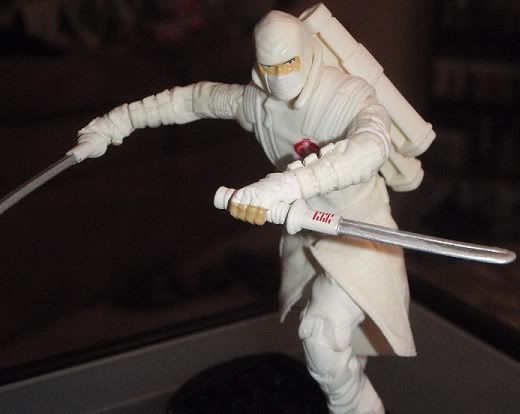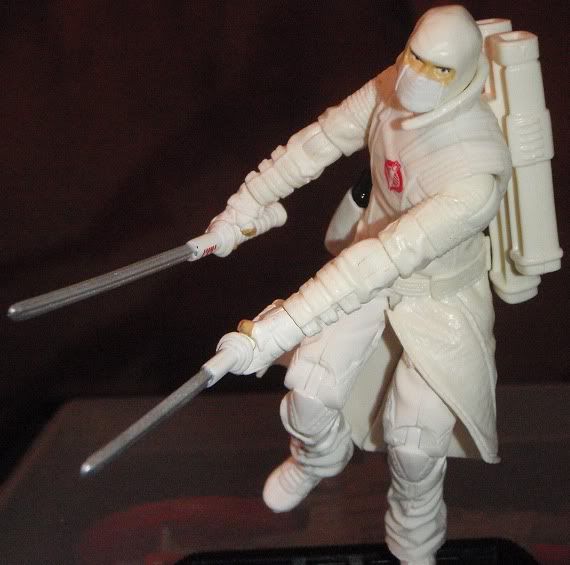 I noticed some folks just slipping the claw over his fist and having him hold it in his hand, but if you take the hand off and slip it over the arm, replace the hand, then slip it forward over the wrist, you get a much better look and a free hand to boot!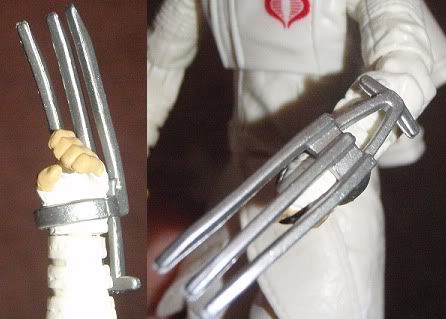 Finally, what is Storm Shadow without his sword brother?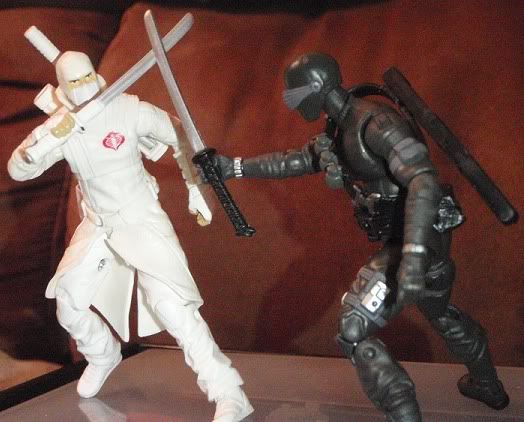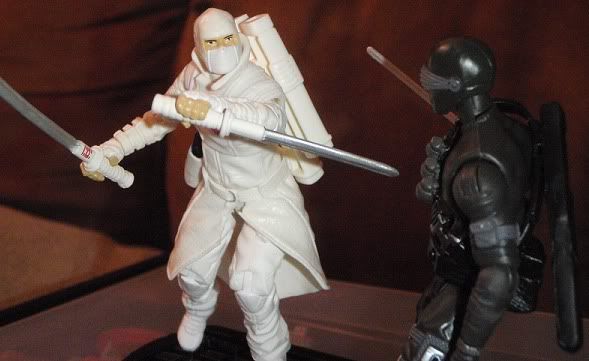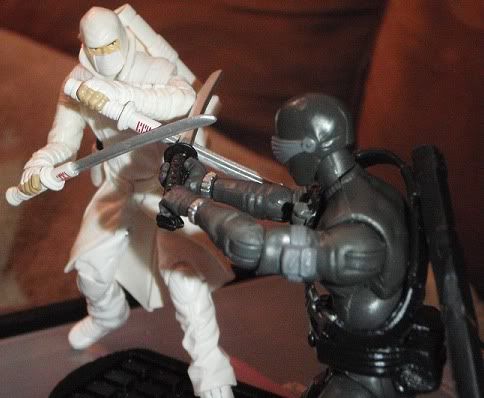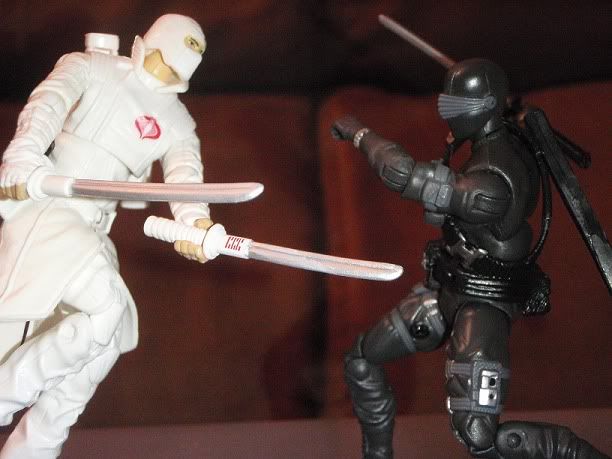 I know what you're thinking: "I've got a bunch of Storm Shadows...why do I need another one?" Well, the answer is that this one is different. If you don't like the look, fine, but I'm hoping the pics above will help change your mind a bit. I mean, look at that! Aren't you tired of the standard ninja outift? If so, this SS will treat you well with awesome action poses and one all important ability that he has above ALL OTHER Storm Shadows: He can hold his swords. Amazing, eh? The ability to hold those swords showed me that the 25th line was a collector line all along. This line really is for kids! I haven't played with a freakin' Storm Shadow in ages!
-------------------------------------------------------------

WOW, look at that old apartment background! I'd say I've improved if I hadn't just found junk to put behind them and then got lazy and used Castle Grayskull for all things.
Now, some of my excitement for this has waned, since they repainted this in thirty million ways, but it doesn't change the fact that it's a solid mold (and I bought those thirty million repaints for a reason). You'll notice I was SUPER excited about his ability to hold the swords: That's because the 25th Storm Shadow came with swords that had
teeny tiny
handles! His hands were small, of course, but it didn't help on most occasions. His swords fell out of his hands constantly, and they reused those swords throughout the 25th line (with a slight remold that had a thicker handle, which was packed with
Arctic Snake Eyes
). This was the first time since the many, many 25th figures that Storm Shadow could hold his swords, allowing me to REALLY have fun with the figure.
Storm Shadow was also restricted by his coat, which I felt was an oversight (especially for a line that kinda went back to the kids and less for the collectors) but one simple cut later and his legs were mostly free! It was a nasty cut, but it works, and I'm often more for function, over form. And function was the name of the game here! No awkward joints, smooth movement, and fun to pose. I'd still highly recommend some version of this mold, even today. You probably wouldn't have a problem coming across it, either.

Now, a little note on my Alexx Shorts archive: I'll be posting this as I see fit - no real schedule. Chances are you'll see them when I can't find time to make a full post. So this isn't a major project where you'll only see Alexx Shorts from now on (they're finite anyway - I didn't make THAT many).

I also want to thank those running JoeBattlelines and JoeSightings (though...I'm not sure where JoeSightings went...?) for hosting my reviews for so long, and apologize for not coming back for reposting. I felt like it would be easiest just to use my current blog to recollect them.

I hope you all enjoy these little glimpses into the past!