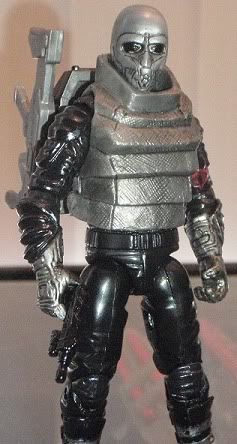 Well, this is it: I've finally decided to start reposting my old "Alexx Shorts" G.I. Joe reviews. They're the reviews that lead to what eventually became this blog! I'll be posting them in straight copy-and-paste format, separating them with bold dotted lines so you know where they begin and end, and then I'll post some final thoughts on what I think of the figure currently.

For those unfamiliar: I used to take random pictures here and there, but by the time the Rise of Cobra toys came out, I was getting annoying with how much people had been bashing the figures which were clearly better than the previous 25th Anniversary offerings. I set out to show people how awesome they were, and things went from there, forming into "Alexx Shorts", named so because I thought I was going to keep to a short format with a few pictures. I did not do that.
Usually the best of any group of figures (for me): The grunts! What had I thought about the new look for the Neo-Viper?
-------------------------------------------------------------

Alright, the new Cobra troops for the movie! Sounds like these guys are pretty tough, when compared the fodder that those dudes in blue shirts ended up being. They also sound kinda similar to the Neo-Vipers of JvC! Pumped up and ready to party! Also, sounds like they are mostly mind-controlled (the only way to control!)
Anyway, these guy already looked cool to me from the start, but I like 'em even more now that I have them in hand. I don't know if people have a problem with the helmet (it's my favorite part) but it seems like folks don't like the armor on 'em. I can understand that, but it really makes these guys look ready to rock more than any trooper before them! The only thing the armor does poorly is impede the inward arm movement a little bit, but you'll see that they can pull off some good stuff. One consistent thing is that the stocks on the rifles always seem too long, and it comes into play here. He does come with a fantastic little rifle, though, and it fits the best out of all of them so far!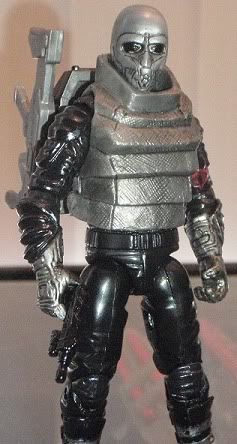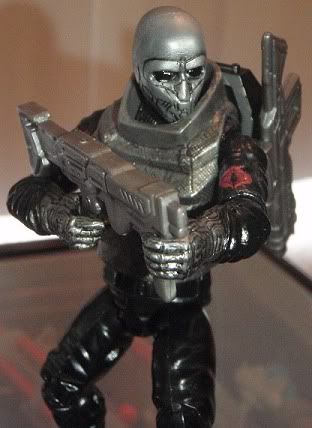 This rifle doesn't fit as badly as some, but it doesn't have too many useful poses, because of the long stock.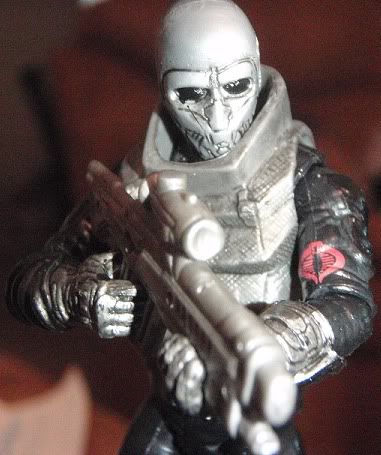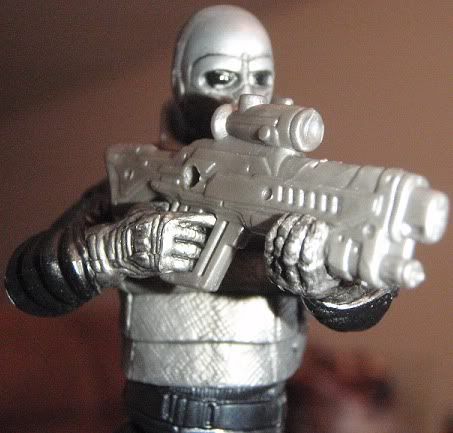 This one fits just right!
In fact, it fits well with B.A.T.s, too! Just looks like it goes with them, honestly.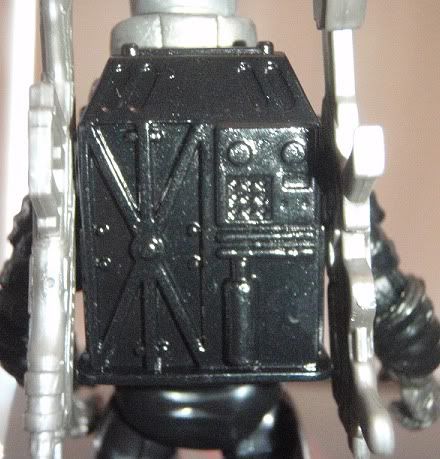 Then, of course, there's this awesomely simple backpack where the weapons are stored! I would have preferred little slots so that I could put other weapons back there, but this works just fine.
Now, regarding the armor, it comes off (of course) and the figure looks really cool without it. In fact, if you folks don't like the armor, just about
anything
will look good on this guy. Here are two of my favorites: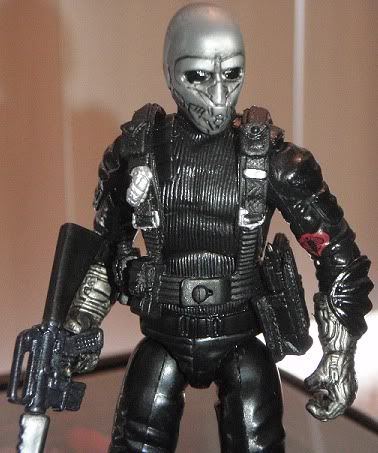 I'll understand the distaste for the armor (though I love it) but you gotta love that awesome helmet! Man, that was built to win stare-downs! My only problem with it is the same problem I've had with Cobra grunts for years: it's too cool! Do I want to get some more of these guys and use them as new troops, or do I want to leave it with the one and make him some new badass?
One thing is for sure...the missile launchers never get old: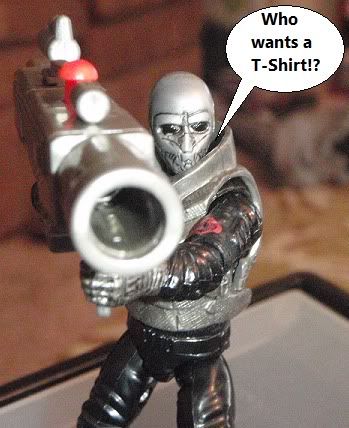 -------------------------------------------------------------

I think I can stand by my old statements: The helmet is cool, the armor is weird, but in an awesome way. They're kind of...organic? I think that's right. I don't know
what
kind of organism, but certainly something crustacean.
For some reason, I don't find myself going back to these as often as I thought I would. I'm getting the warm-fuzzies from looking at him, and reposting the review made me pull a few out to mess with them again. I don't know why I haven't messed with one in awhile! They're still sturdy and fun to pose, creepy looking, and unique among grunts. Better than the previous attempt at a
Neo-Viper
, anyway. I mean, the old one was more Cobra-looking, but "neo" means "new", so I imagine that it should be something totally
new
. I still feel like these Rise of Cobra Neo-Vipers should have a place in any little Cobra army (or Cobra-La army?), but they also fit in with just about anything in this scale. They could even be sorta fantasy-ish, with how organic the armor looks.
These shouldn't be hard to find at all, if you're still interested. I doubt they gained that much popularity, even though the sculpting is fantastic and it makes a great toy. Check one out if you get the chance.