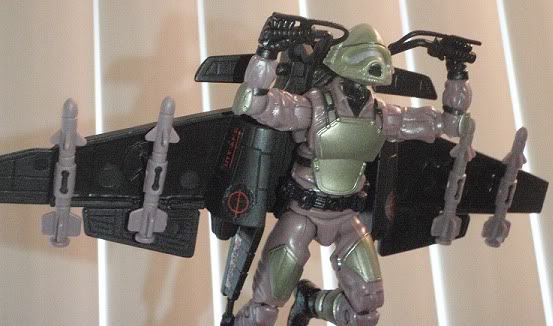 Well, this is it: I've finally decided to start reposting my old "Alexx Shorts" G.I. Joe reviews. They're the reviews that lead to what eventually became this blog! I'll be posting them in straight copy-and-paste format, separating them with bold dotted lines so you know where they begin and end, and then I'll post some final thoughts on what I think of the figure currently.
For those unfamiliar: I used to take random pictures here and there, but by the time the Rise of Cobra toys came out, I was getting annoying with how much people had been bashing the figures which were clearly better than the previous 25th Anniversary offerings. I set out to show people how awesome they were, and things went from there, forming into "Alexx Shorts", named so because I thought I was going to keep to a short format with a few pictures. I did not do that.
One of the best things about RoC was the remakes of old classics:
-------------------------------------------------------------
Within the first wave of Target Exclusives (some of which are obviously excuses to get out some of the 25th stuff that didn't get released) is this guy: The Air Viper Commando, or, repaint of the AVAC with Resolute trooper arms! Those arms really make a difference, too! I wish the AVAC had come like this.
Anyway, the first thing you'll notice with this figure is that he's...uh..lavender? Brownish? Hard to say. See for yourself: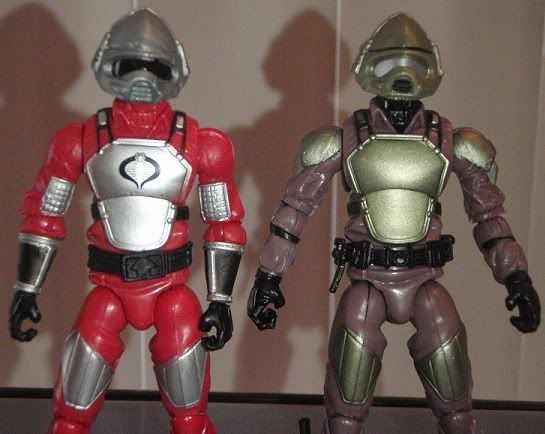 There he is with the AVAC. Seems like it's sort of dark, faded red, or some sort of purple. I honestly don't mind the color, but it's kind of a tease to show us that he was gona be in black, first, on the back of the package: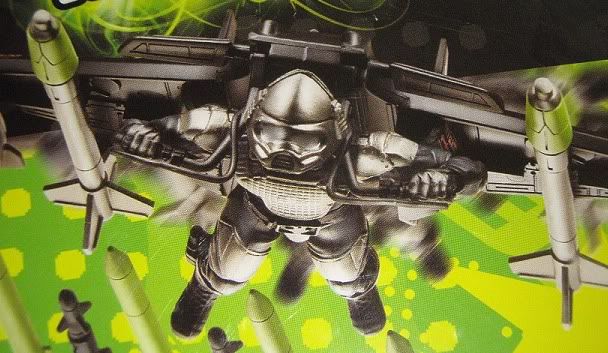 It would have made more sense, too! The whole glider is mostly black, so it would have been a cool stealth kinda deal. It still sorta is, since his colors are very dark, but I can't help but notice that he looks really cool in black! (Though, there is a lot of black in the line already).
Anyway, moving on: I really gotta recommend this one! The set gives you a much better AVAC (unless you don't like the colors) and he fits on the CLAW much better than the troopers do. The Reso-Trooper hands fit
perfectly
, and he can even look forward for flight poses!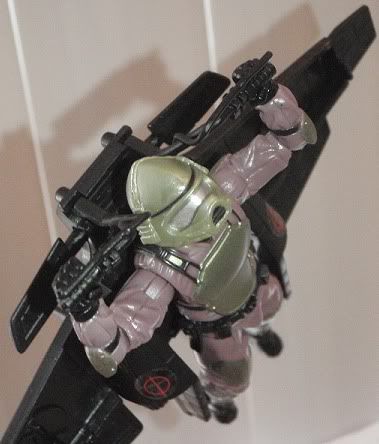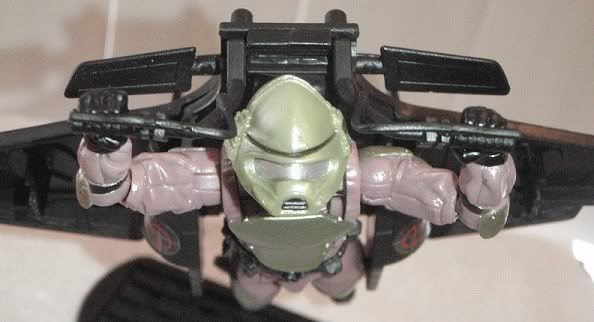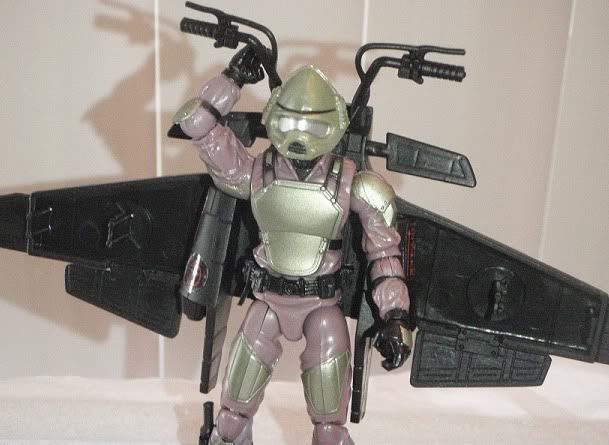 If you just want to leave 'em on there, I don't think you'd be disappointed! He does come with some weapons for off-glider duty, but they kinda took a step back to the Spytroops days (with Grand Slam, too) for the gun. It was one of the cooler guns of the Spytroops "rehash-old-weapons-from-ARAH-line" deal. I might end up giving him some other weapon, but I gotta say that this one does work pretty well!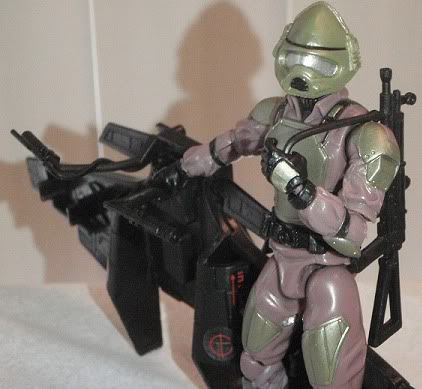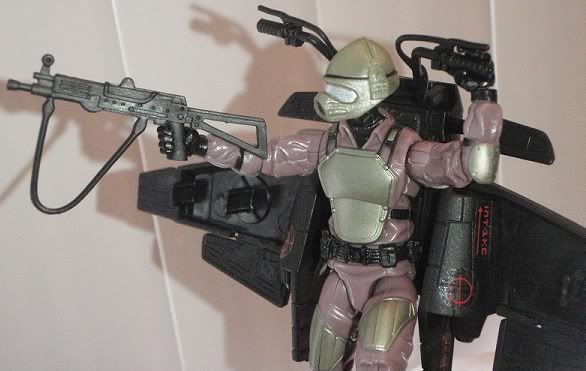 He also comes with the standard Zartan knife for anyone who shares his legs, but, they painted the middle of the blade...green? Is it a venom knife? Nano knife? Isn't a bad thing, but it is strange.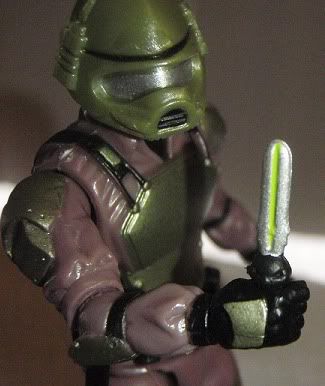 Finally, the CLAW itself:
...comes with a TON of missiles!
In fact, it comes with everything previous CLAWS (for the 25th line anyway) have come with, and more! There's the little missiles, the long ones that were on the FANG, two new ones for the movie, and two FANG bombs! This guy is loaded! Cool thing about that is that, if you get more of these guys, you can outfit each of them differently!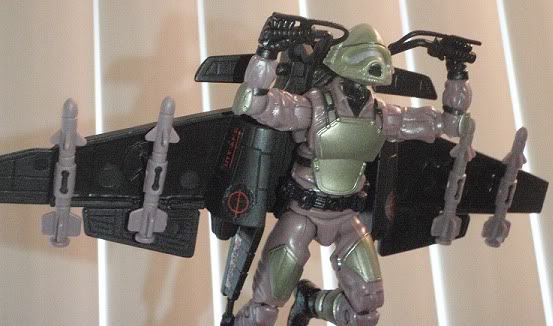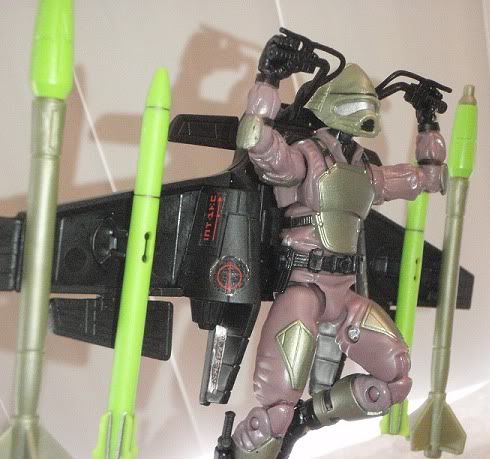 If you really hate the colors, I can understand, but I gotta say this: Ignore them if you can, because they aren't that bad, and this is the best matchup for the CLAW that they have done so far! Multiple buys will get you various attack formations, and the Air Viper fits so
well
on this thing! The one part that irked me about the CLAW when I got it with the FANG, was that the regular trooper just could not look perfect on it. This guys fits, holds the handlebars well, and can even look forward while flying! I don't see any reason to skip this one if you like the new smaller CLAW.
-------------------------------------------------------------

WELL SAID, Past Alexx! Agreed on all counts, right to this day. I gotta say: The Target exclusives for RoC were
awesome
. They were all rehashes of old stuff that were supposed to be for the 25th line, but ended up with new color schemes and - usually - good repaints or part-shuffles of previous figures. Each one had something great about them, even when they just did Storm Shadow again.
This one, in particular, still holds up. I wouldn't be surprised if folks still have a bunch of these in their army-building bins. It's a shrunken-down CLAW (from the vintage line) in black with a GREAT figure (with an okay paint job). The choice of parts were perfect, and I still love those Resolute Trooper arms and hands. I was never big on the Zartan legs, but they worked here in tandem with the armored chest and shoulders to create something that honestly looked like it was supposed to be that way.
I'd say this (and many Target RoC exclusives) is worth hunting down, but perhaps I just like gliders and masked figures so much that I'm biased. That, and I dunno if this goes for a lot of money or not. It was a STEAL, back in '09, and even better if you caught Target's many clearances. It shouldn't be worth much, so if you find it cheap, I'd get it.